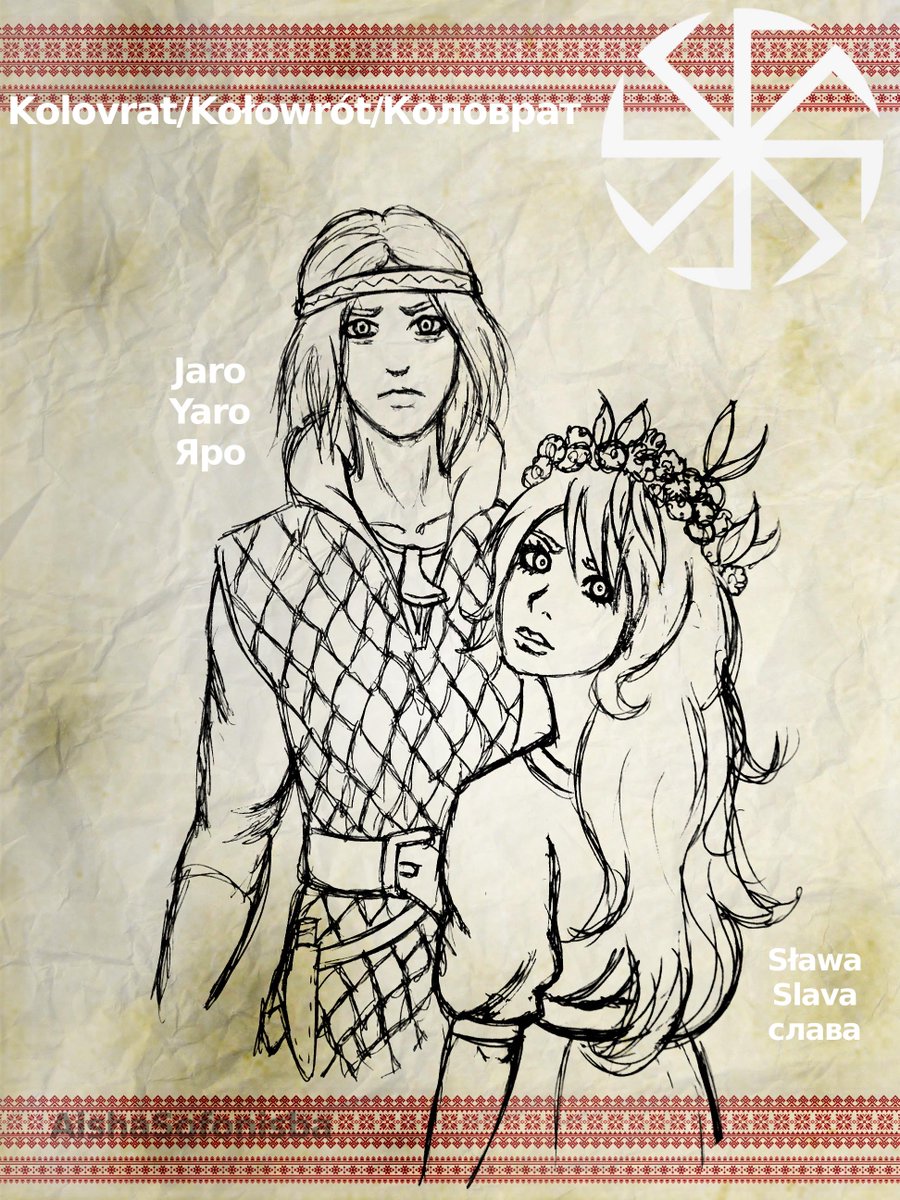 ---
Dnia 25.03.2017 otrzymałem taką wiadomość:
"Nie wiem czy wiesz ale pisze książkę. Już jestem blisko końca. Chciałabym, aby w internecie dyskutowano o niej i o turbosłowiańskich książkach w ogóle. Dlatego mam prośbę abyś opublikował to co jest w załącznikach. W pierwszym jest apel Adama, napisany specjalnie pod nasze blogi, na blogu Białczyńskiego już o tym było http://bialczynski.pl/2017/03/ Niestety, przekazał inicjatywę rudaweb http://rudaweb.pl/index.php/ a tam dyskusja zboczyła na inne tory. Jeżeli ci nie odpowiada publikowanie tego, to na tym mi aż tak nie zależy. Na opublikowaniu tego co jest w drugim załączniku zależy mi o wiele bardziej. Jeżeli puścisz to bez wcześniejszej publikacji tego co Adam napisał, to chyba będziesz musiał skrobnąć chociaż zdanie, o co chodzi z ta moją książką. Oczywiście, możesz skasować to: "Bardzo proszę o nie wpisywanie się pod tym z wątkami nie na temat." Zdanie, było pisane pod bloga Białczyńskiego, po tym co się tam działo. Apel Adama możesz opublikować nawet od razu. Jeśli zaś chodzi o fragmenty mojej książki to prosiłabym o nie publikowanie tego przed poniedziałkiem, bo wtedy opublikuje Białczyński. Oczywiście nie musisz się z tym spieszyć, jeśli ci teraz nie pasuje, jak odłożysz na kilka dni to nic się nie stanie. Jeśli w ogóle nie opublikujesz to tez się nie obrażę na wieki. 🙂
Pozdrawiam
Dragomira
…..
W pierwszym odruchu miałem napisać w tytule tego wpisu, coś jak "apel", itp,.. ale następna myśl, jaka przyszła mi do głowy była jak sążnisty policzek wymierzony samemu sobie. To co pomyślałem "brzmiało" coś jakby:
"Ty parszywie leniwy, bezmózgi, pół-słowiański śmierdzący gnojku, jak śmiesz!!!"… i w następnej sekundzie moje palce śmigały już w klawiaturze zwrot "apel wyrazy bliskoznaczne"…
http://synonim.net/wyrazy-bliskoznaczne-do-s%C5%82owa-apel
Tyle propagandy,.. bo tak naprawdę to wklepałem coś innego,.. bo wiem, że jeśli użyje się magicznego zaklęcia "cokolwiek synonimy",… to niestety otrzyma się więcej wyników wyszukiwania, patrz:
http://synonim.net/synonim/apel
list otwarty, obwieszczenie, odezwa, ogłoszenie, orędzie, oświadczenie, oznajmienie, przesłanie, stwierdzenie, twierdzenie, wiadomość, wypowiedź, zawiadomienie, narada, nasiadówka, obrady, posiedzenie, sejmik, spęd, spotkanie, zbiórka, zebranie, zgromadzenie, zjazd, zlot, odwołanie się, orędzie o coś, prośba, uchwała, wezwanie, wołanie, list zbiorowy, wniosek, zew, pismo, podanie, posłanie, nakaz, pozew, pozwanie, zaproszenie, zawołanie, przywołanie, błaganie, życzenie, orzeczenie, powiedzenie, przemówienie, uroczyste ogłoszenie, uroczyste oznajmienie, wygłoszenie, wypowiedzenie, wyraz, roszczenie, warunek, wskazanie, zalecenie, odwołanie, podanko, powództwo, skarga, odprawa, bodziec, bodziec do działania, napęd, odruch, pęd, potrzeba, sygnał, zamiłowanie, zapał, proszenie, żebranie, odczytanie nazwisk…
Po co to wszystko napisałem? Ano po to, że uważam, że napisanie tego podręcznika dodatkowo z UŻYCIEM PRA-SŁOWIAŃSKICH I SŁOWIAŃSKICH SŁÓW BĘDZIE WIELOKROTNIE LEPSZE I WYWRZE ZNACZĄCO WIĘKSZY WPŁYW NA NASZĄ RZECZYWISTOŚĆ… niż kiedy powstanie on jako kolejny ćwierć-polski, ćwierć-łaciński, ćwierć-angielski i ćwierć-niemiecki biuletyn, deklaracja, enucjacja, exposé, informacja, komunikat, manifest, memoriał, nota, notyfikacja, proklamacja, rezolucja, uniwersał, konferencja, kongres, konwencja, konwentykiel, manicha, mityng, pikieta, plenum, sesja, tete-a-tete, enuncjacja, petycja, apelacja, edykt, ekspresja, zadeklamowanie, dezyderat, dyrektywa, postulat, propozycja, apel poranny, suplika, entuzjazm, impuls, inicjatywa, szwung, itp…
Robię to co robię, żeby KAŻDĄ SŁOWIANKĘ I KAŻDEGO SŁOWIANINA POCHWYCIŁ W SWE SZPONY NIESMAK, a nie zasrany absmak, do NIE-SŁOWIAŃSKICH WYRAZÓW I ZWROTÓW!!!
Wyrażałem się o tym wielokrotnie, np. tu, czy tu,.. itd i będę to jak pijany zapomnianymi drganiami matczynych i ojcowskich słów, w kółko, ciągle, raz po raz, nieustanie do skutku każdej Słowiance i każdemu Słowianinowi powtarzał i przemocą jak trzeba wbijał do naszych jeszcze pół-słowiańskich rozumów…
SŁOWIANKI I SŁOWIANIE MYŚLĄ, MÓWIĄ I PISZĄ W ŚWIĘTYM PRASTARYM JĘZYKU PRZODKÓW, A NIE W JĘZYKU NASZYCH TYCH CZY TAMTYCH NAJEŹDŹCÓW I WROGÓW!!!
SŁAWA NASZYM SŁOWIAŃSKIM PRZODKOM, NASZEMU PRADAWNEMU PRA-SŁOWIAŃSKIEMU DZIEDZICTWU I JĘZYKOWI!!! 🙂