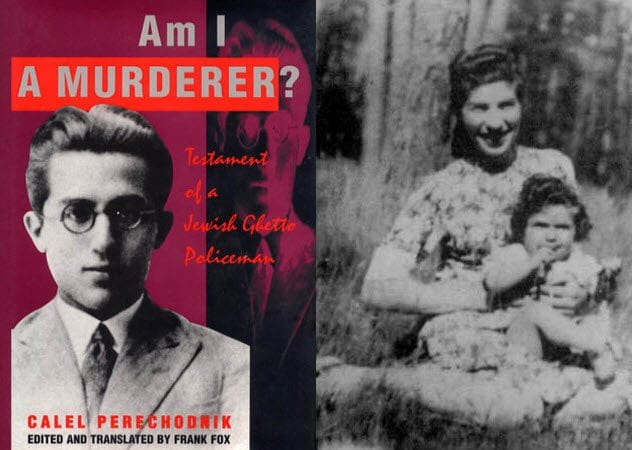 https://en.wikipedia.org/wiki/Category:Jewish_Nazi_collaborators
Category:Jewish Nazi collaborators
Pages in category "Jewish Nazi collaborators"
The following 8 pages are in this category, out of 8 total. This list may not reflect recent changes (learn more).
Ans van Dijk, Abraham Gancwajch, Stella Kübler, Moshe Merin, Alfred Nossig, Calel Perechodnik, Chaim Rumkowski, Józef Szeryński
…..
https://en.wikipedia.org/wiki/Ans_van_Dijk

Nazi collaborator Ans van Dijk at her trial in 1947
Anna (Ans) van Dijk (Amsterdam, December 24, 1905 – Weesperkarspel, January 14, 1948) was a Dutch-Jewish collaborator who betrayed Jews to Nazi Germany during  World War II. She was the only Dutch woman to be executed for her wartime activities.[1]
Biography
She was the daughter of Jewish parents, Aron van Dijk and Kaatje Bin. She married Bram Querido in 1927, and they separated in 1935.[2] After the marriage ended, she began a lesbian relationship with a woman named Miep Stodel, and opened a millinery shop called Maison Evany in Amsterdam. The shop was closed by the Nazis in 1941 as part of their seizure of Jewish property (Jews were forbidden to own businesses or work in retail shops). Stodel fled to Switzerland in 1942.[3]
Van Dijk was arrested on Easter Sunday 1943 by the Sicherheitsdienst (SD; the Nazi intelligence service) detective Peter Schaap of the Office of Jewish Affairs of the Amsterdam police. After promising to work for the SD, van Dijk was released. Pretending to be a member of the resistance, she offered to help Jews find hiding places and obtain false papers. In this way, she trapped at least 145 people (including her own brother and his family). Some 85 of her victims later died in concentration camps.[3] She may have been responsible for the deaths of as many as 700 people.[4]