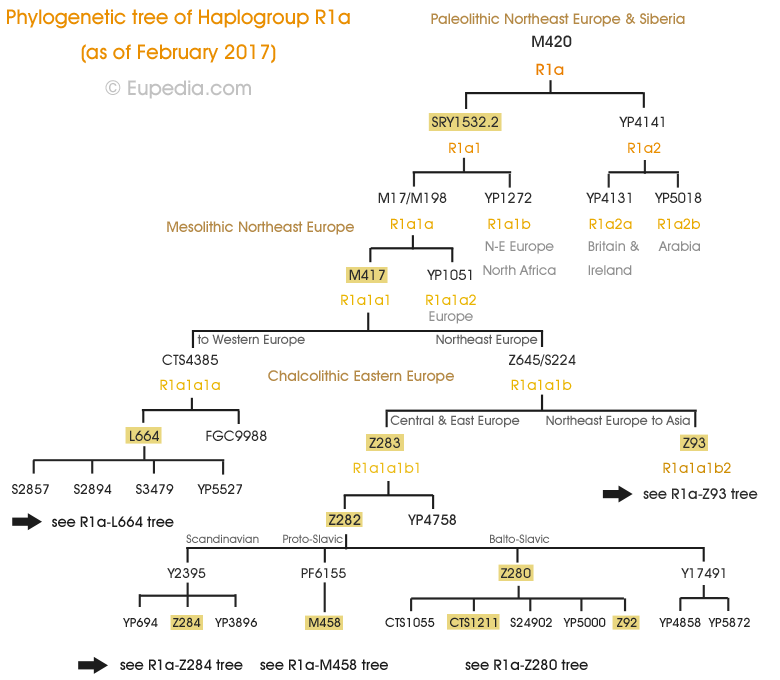 https://www.eupedia.com/europe/Haplogroup_R1a_Y-DNA.shtml
Przygotowałem ten wpis, trochę na życzenie annaM, ale nie tylko, bo… zwyczajnie rzygam już bredniami, o rzekomym pochodzeniu Słowian / Polaków od Orłów / Ariów, Scytów, Sarmatów, czy innych wikingów, itp. Wypisują je różni przeważnie ciężko nawiedzeni prorocy i ich wyznawcy, ale także przemożnie przemądrzali mondrale, jak np. dr Piotr Makuch, a za zanim ci, którzy uwierzyli w te bajeczki.
I nie ważne, że twarde dane genetyczne i językoznawstwo od dawna PRZECZĄ TEMU KŁAMSTWU… Oni i tak wiedzą lepiej, bo rzekomo potwierdza to np. to co jakiś ktoś kiedyś napisał w jakichś kronikach… Ich kłopot i ich "bul" i ciekawe jak przełkną i strawią to, co mam im wszystkim do powiedzenia… Żartuję, wiem, że wszyscy Mię olejom… 😉
---
Twierdzę, że to Pra-Słowianie o podkładach haplogrupy R1a, jak M17 / M198, M417, Z645 / S224 BYLI PRZODKAMI ORŁÓW / ARIÓW, SCYTÓW i SARMATÓW,.. ale tylko tych, którzy mieli podkłady haplogrupy R1a, a nie np. R1b, czy Q.
Twierdzę, że Z93, Z94 bardzo rzadko odnajdywane obecnie na terenie obecnej Polski, jest późnym sygnałem pochodzącym od Scytów, Sarmatów, czy Chazarów i jest "aryjskiego" pochodzenia.
Twierdze, że jest możliwe, że za tzw. Polanami Kijowskimi, patrz R1b tzw. Piastów, część podkładów R1b odnajdywanych na terenie obecnej Polski MOŻE MIEĆ POCHODZENIE OD-SARMACKIE.
Twierdzę, że dane zamieszczone w tym wpisie potwierdzają "północną drogę R1a", jako potomków łowców mamutów i obalają "południowa droge R1a", jako rolników z Anatolii i Bałkanów.
---
Jako dowód na to w dalszej części tego wpisu zamieszczam dane pochodzące z tych stron: https://www.eupedia.com/europe/Haplogroup_R1a_Y-DNA.shtml http://www.ancestraljourneys.org
A i jeszcze jedno… Z językami jest podobnie, gdzie tzw. PIE (Pra-Indo-Europejski / Proto-Indo-European = PS (Pra-Słowiański / Proto-Slavic),.. a doktorat i wiedza allo-allo dr Makucha i jego zwolenników to lipa, tak jak rzekome zapożyczenia od-irańskie rzekomo odnajdywane w j. słowiańskim, bo Las / LaS, Lis / LiS, Leszy / LeS"+y, Los / LoS, L"ysy / L"yS+y, Licho / Li(c)Ho, Lach / La(c)H, Lech / Le(c)H, Łza / L"Za, Lży / LZ"y, Leż / LeZ", Leź / LeZ', Lęg / Le"G, Łęg / L"e"G, Łuk / L"o"K, Łyk / L"yK, Łyko / L"yK+o, Len / LeN, Lać / LaC', Leć /  LeC', Łąka / L"a"K+a,.. a także Słuch / Z/S+L"o"(c)H,.. itd…
UWAGA! Otworzyłem nowy wątek na forumbiodiversity.com, poświęcony temu zagadnieniu: http://www.forumbiodiversity.com/showthread.php?t=49105